STILL WATER EVERYWHERE!

The billabong is still full with a recent top up in mid January. There is also an overflow pool in the woodland south of the billabong. Who would have thought these plants would have been so well watered in when we planted them in October.

---
THE MYSTERIOUS NEST BOX
---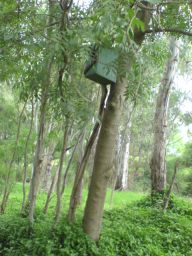 ---
A nest-box appeared in a river red gum beside the river in mid January.
Does anyone know anything more about it?

"FIRE HAZARD REDUCTION"

We received the annual 'fire hazard reduction' notice in December so with David's slasher/mower and a hired slasher, we cut the grass in the woodland area over 2 days.
---
---

A LONELY MICROBAT

When I checked in January, our solitary microbat is still in residence but has changed tubes again.

THE NEXT COMMUNITY WORKDAY IS
FRIDAY 11 FEBRUARY 2011
9 a.m. to 1 p.m.

Plans for the February work day are for general weeding and to remove the old star picket fence with the aid of a front end loader.

Stanley Barker,
Burke Rd. Billabong Committee of Management.
www.vicnet.net.au/~fobrb