MELBOURNE WATER STARANE SPRAYING

Notices have appeared on trees along the north side of the bike path that Starane has been sprayed on the 'Trad'. Melbourne Water advised that they are conducting some trials to see what plants come up if the Trad is eliminated. They will also trial direct seeding.
MW also advised that they may have mulch available from tree trimmings from a tree fallen into the river from the north bank.

STILL WATER EVERYWHERE!

The billabong received with another top up in early February. The overflow pool in the woodland south of the billabong is still full. I did a water test on the billabong and the results were;
Temp 17&degC, pH 7.4, Turbidity 80, Nitrates 1mg NO 2 , 10 µg NO, EC 250 µS/cm.
I'll have to check my school books to see what it all means!

WOMBAT

Just after the February flood I found what appears to be a wombat refuge in a pile of old boxthorn. It was above the flood line.
---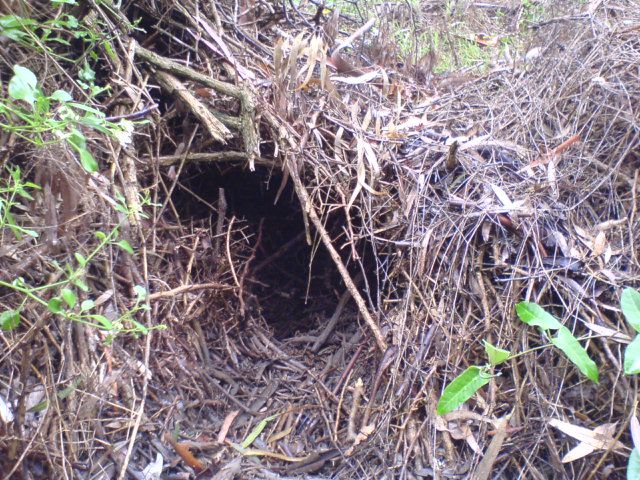 ---
The plantings in the woodland appear to have been grazed above the tree guards, and wombat size scats found in the area.


NEST BOXES

When I checked in February, our solitary microbat was not there, but there was a ringtail possum and baby in the mysterious nest box.

WOODLAND

We applied for a 'Bush Guardians' grant from DSE in November for the purchase of a slasher /mower, new brushcutter and herbicide. As the weeds and grass are growing madly with all the rain that we have been having, I pre-empted the approval and purchased a mower. I have mowed most of the woodland area and plan on keeping it down.


---
---
We may change the plan of planting north of the bike path this year, to the woodland.

COMMUNITY WORK DAY

Heavy showers spoiled our last Community work day. Some weeding was done, and tree guards replaced after the flood (again!).

THE NEXT COMMUNITY WORKDAY IS
FRIDAY 11 MARCH 2011
9 a.m. to 1 p.m.

Plans for the March work day are for general weeding and planting of kidney weed and poas near the track / bike path junction. If the mulch from Melbourne Water arrives, then some mulch moving will be on the agenda.

Stanley Barker,
Burke Rd. Billabong Committee of Management.
www.vicnet.net.au/~fobrb