STILL WATER EVERYWHERE!

The river flooded again on 12 April reaching a level of 6.48 metres. The billabong refilled as a result. This is the fourth top-up it has had since it filled in October/November.

NEST BOXES

The bat tubes were checked again on Saturday 30 April and the initial visual check showed 2 tubes occupied.

---
---
The Wilson reserve bat team came over to collect and assess the bats. There were 4 bats in each tube, with 1 male and 3 females in each.
---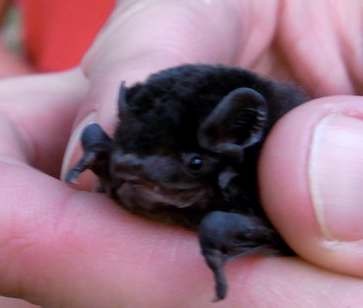 ---
I am currently completing the applications necessary to have a bat survey team based on Burke Rd. Billabong reserve and have had expressions of interest from five people who would like to be part of this survey team.
NOTICE BOARDS

We have received approval for installation of the notice boards which will be ready for installation on the workday.

BUSH GUARDIANS' GRANT

We applied for a 'Bush Guardians' grant from DSE in November for the purchase of a slasher /mower, new brushcutter and herbicide. We still haven't heard the result. However, as reported last month, we purchased a mower and have put it to good effect, mowing the picnic areas and bike path verge.
My brush-cutter broke down last month so I have again pre-empted the approval and purchased a new brush-cutter which is proving faster and easier to use than the previous one.

RMIT CaLM STUDENTS.

RMIT students have been at the Reserve as part of their studies doing a 'Habitat Hectares' and vegetation survey on a section north of the shared path between the Burke Rd Bridge and the west of the Burke Rd. access track. Plans are for them to remove the Trad in this area and do some planting over the next months.

COMMUNITY WORK DAY

Our last Community work day was highly successful with 10 participants weeding and mulching around the picnic area. Thanks to City of Boroondara and Peter Tucker for the ute load of mulch.

THE NEXT COMMUNITY WORKDAYS ARE

FRIDAY 13 MAY 2011
9 a.m. to 1 p.m.

&

SUNDAY 28 MAY 2011
10 a.m. to 1 p.m.

Plans for the May work day to install the notice boards and signs, preparing for the spring plantings, and for general weeding in the 2008 area around the Poas and Dichondras planted in March.

Stanley Barker,
Burke Rd. Billabong Committee of Management.
www.vicnet.net.au/~fobrb