BAT PROJECT

The bat tubes were checked again on Saturday 21 May and the initial visual check showed 2 tubes occupied.
The Wilson reserve bat team came over to collect and assess the bats. There was 1 Gould's wattled bat in each tube; a male and a female.
The first application to use the DPI Animal Ethics Committee has been approved and now the project must be approved. The DPI Animal Ethics Committee will consider the project proposal on June 23.

BUSH GUARDIANS' GRANT

We applied for a 'Bush Guardians' grant from DSE in November for the purchase of a slasher /mower, new brushcutter and herbicide. We have received advice that the grant has been approved.
The new brush-cutter is still proving faster and easier to use than the previous one. I have slashed nearly all the 2010 reveg area, extended the width of the shared path verge in a number of areas.

RMIT CaLM STUDENTS.

RMIT students have been at the Reserve as part of their studies doing a 'Fauna survey'. They listed a lot of birds = I will put the list on the website when it is finalised, and found a macropod footprint in the north-west area near the MW concrete inspection covers.
To follow up on the survey, I purchased a motion activated infra-red camera, which takes pictures day and night of any movement in front of it. The first 12 pictures are only of me setting it up but I will check again on Thursday 9 June to see what it has found.

COMMITTEE TERM OF APPOINTMENT

When the Committee was set up, we were appointed for a term of 3 years. This term is due to expire in September, so arrangements are being made for a public meeting to elect Committee members. It is proposed to have this meeting at our working day on 31 July
NOTICE BOARDS & RESERVE SIGNS

The notice boards were installed on the Friday workday in May. Feedback from path users has been positive.

---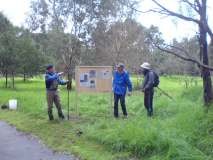 ---
The reserve signs made by David were also installed and now give the reserve a cared for appearance.

COMMUNITY WORK DAY

Our first Sunday Community work day was highly successful with 12 participants weeding around the picnic area, and clearing a lot of rubble and rubbish from the site.


---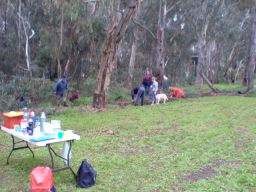 ---
THE NEXT COMMUNITY WORKDAYS ARE

FRIDAY 10 JUNE 2011
9 a.m. to 1 p.m.

&

SUNDAY 26 JUNE 2011
10 a.m. to 1 p.m.

Plans for the June work day is for general weeding in the 2008 area around the Poas and Dichondras planted in March.

Stanley Barker,
Burke Rd. Billabong Committee of Management.
www.vicnet.net.au/~fobrb