'TRAIL CAM'

Just before the last newsletter I had installed a 'trail-cam', a motion activated infrared camera, which takes pictures day and night of any movement in front of it. The first week's photos were exciting, a wallaby on a couple of nights and a bird, which in B&W looks like a tawny frogmouth.

---
---
---
---
The second week I didn't insert the memory card properly and no pictures were saved. The next week showed the tawny frogmouth again and a fox?.

---
---
RMIT SUPPLEMENT IN 'THE FINANCIAL REVIEW'

RMIT had a supplement in the Financial Review featuring the Billabong on the back page. There is also a page on the RMIT website with the article there is a link on our website.

---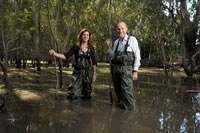 ---
Helen and I donned waders for the photos.

BAT PROJECT

The bat tubes were checked again on Saturday 11 June but there were no bats were in the tubes.
I attended the DPI Animal Ethics Committee on June 23 to discuss the project proposal. They have given in principle approval, but wish to have some further detail.

COMMUNITY WORK DAYS

In June, our Friday work day had 5 participants weeding the bank below the picnic area, and on our Sunday work day we spread 2 ute loads of mulch - kindly donated by City of Boroondara - on this slope.

THE NEXT COMMUNITY WORKDAYS ARE

FRIDAY 8 JULY 2011
9 a.m. to 1 p.m.

&

SUNDAY 31 JULY 2011
10 a.m. to 1 p.m.

Plans for the July work days are for general weeding in the 2008 area and planting 'bidgee-widgee'.
When the Committee was set up, we were appointed for a term of 3 years. This expires in September, so a| public meeting to elect a new Committee will be held at our working day on 31 July

Stanley Barker,
Burke Rd. Billabong Committee of Management.
www.vicnet.net.au/~fobrb