TRIENNIAL ELECTION

When the Committee was set up, we were appointed for a term of 3 years. This expires in September, so a| public meeting to elect a new Committee was held at our working day on 31 July. The election was conducted by our local Councillor, Brad Miles, and Stanley Barker, Helen Corney, David Cummings, Bob Griffiths, and Niki Smith were elected and will be put forward to the Minister for appointment to the new Committee.

'TRAIL CAM'

The wallaby appears to have moved on as it has not been seen by the trail cam recently. The trail cam has again picked up a fox and a bird. I have examined the ground near where the bird has been photographed but can find no reason for it coming back to the same spot so regularly.

BAT PROJECT

The bat tubes were checked again on Saturday 9 July but there the bats were still on holiday elsewhere.
The DPI Animal Ethics Committee have given approval for the project, but still wish to have some further detail on the bat bag washing regime.

WOODLAND PLANTING

Over the last month, the woodland has had work done in preparation for further planting this spring. Photo shows the mower at work in the woodland while the pusher took a break!

---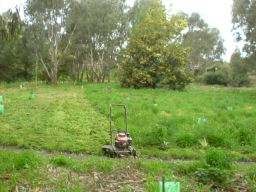 ---
The wattles in this area are coming into flower and working there beats an office any day!


RMIT STUDENTS.

RMIT students have returned to work at the Reserve. Over the next few months, groups will be working on 20m * 20m areas between the path and the river working west from the bridge, removing Trad and other weeds, and revegetating the area.
The students were quite excited to find about 10 frogs under the Trad.

COMMUNITY WORK DAYS

In July, our Friday work day had 5 participants weeding the 2008 planting below the picnic area, and on our Sunday work day continued weeding in this area. I was so inspired by the clearing accomplished on these two days that I planted 15 native raspberry plants into this area on August 1.
The last site assessment found no indigenous scramblers or climbers in the Reserve, so this is a significant planting.

BILLABONG FLOOD LEVEL

At the moment, there is a drain between the billabong and river that artificially drops the level of the billabong by about 800mm. This drain passes under the Main Yarra trail near the north-south to east-west curve.
Melbourne Water have agreed to our proposal to have a bund and one-way valve in this drain to increased the billabong's "full" level, meaning that after a flood, water will remain in the billabong longer.

THE NEXT COMMUNITY WORKDAYS ARE

FRIDAY 12 AUGUST 2011
9 a.m. to 1 p.m.

&

SUNDAY 28 AUGUST 2011
10 a.m. to 1 p.m.

Plans for the August work days are for planting in the 2011 area and planting 'bidgee-widgee' in the 2010 area.

Stanley Barker,
Burke Rd. Billabong Committee of Management.