'TRAIL CAM'

After a month's holiday on Herring Island I have put the trail cam back in the Reserve. All it found at Herring Island was some birds and a fox, but then it was set next to a fox-hole.

BAT PROJECT

The bat tubes were checked again on Saturday 13 August but the bats were still on holiday elsewhere.
I have now applied for a DSE permit for the bat project, which may take up to six weeks.

COMMUNITY WORK DAYS

In August, our Friday work day had 6 participants and we planted approx 320 bidgee-widgee (Acaena novae-zelandiae) between the shared path and billabong.
---
---
(More detail about Bidgee-widgee at
http://www.dpi.vic.gov.au/dpi/vro/vrosite.nsf/pages/sip_salt_bidgee_widgee )
These are growing well and will hopefully be vigorous enough to stop the weeds coming back. After the planting was finished, we again weeded the western end of the 2008 planting area.
On our Sunday work day, ten participants planted river red gums, river tea-tree, river bottlebrush, snowy daisy bush, lomandra into the 2013 and woodland areas, and rushes into the north bank of the billabong. approx 250 plants in all.


RMIT STUDENTS.

RMIT students have returned to work at the Reserve. They have rolled up Trad in their 20m * 20m areas between the path and the river working west from the bridge. I optimistically said that if they put the rolled up Trad on the path verge, I would mow it up. But neither the mower nor I can handle piles one metre high by 4 or 5 metres long. I think the best place for all the Trad is under the bridge where nothing grows, and it will rot down.

---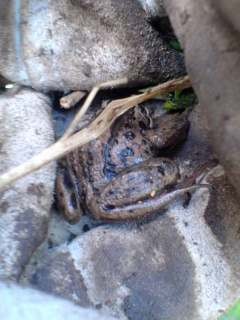 ---
The students were quite excited to find about 10 frogs under the Trad.

THE NEXT COMMUNITY WORKDAYS ARE

FRIDAY 9 SEPTEMBER 2011
9 a.m. to 1 p.m.

&

SUNDAY 25 SEPTEMBER 2011
10 a.m. to 1 p.m.

Plans for the October workdays are for some more planting in the 2011 area, plant some clematis around the reserve, and for weeding in the 2008 and picnic areas.

Stanley Barker,
Burke Rd. Billabong Committee of Management.