RMIT STUDENTS.

On Thursday 6 October RMIT CaLM students started to plant out into their areas. They drew up a list of plants as part of their assignment and with some small changes, the plants were ordered from VINC. Their work removing the Trad has really opened up the views to the river. (Not enough room for pics so come and be impressed)

BAT PROJECT

The bat tubes have been checked twice since the last newsletter - on Saturday 10 September, and 8 October. There were 10 bats in September and 1 in October. All the bats were female and all in the same tube. The bats were measured and weighed. We now have a DSE permit for the bat project, and I have had vaccinations so that I am allowed to handle microbats.

WILDLIFE

The wildlife continues to amaze. While working at the reserve on 5 October I disturbed a grey kangaroo
---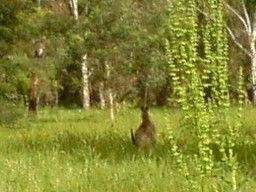 which bounded away.
---
The ephemeral wetland refilled with the last rains and is popular with frogs and all sorts of waterbirds.
---
One of our committee members found the source of the mysteriously appearing possum box, when he saw a lady putting up another two. He asked her what she was doing and she said she was in 'animal rescue' and was putting up the boxes
---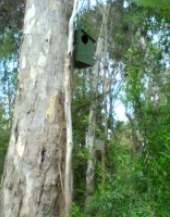 ---
- complete with possums.

COMMUNITY WORK DAYS

In September, our Friday workday was cancelled due to rain squalls. Our Sunday workday had 5 participants. We planted river red gums, river teatree, river bottlebrush, snowy daisy bush, into woodland area and beside path at south end of 2013 area. approx 150 plants.
We still had about 70 plants so Russell Costello and I planted remainder of the plants on the following Wednesday.

THE NEXT COMMUNITY WORKDAYS ARE

FRIDAY 14 OCTOBER 2011
9 a.m. to 1 p.m.

&

SUNDAY 30 OCTOBER 2011
10 a.m. to 1 p.m.

Plans for the October workdays are for some more planting in the 2011 area, plant some clematis around the reserve, and for weeding in the 2008 and picnic areas.

Stanley Barker,
Burke Rd. Billabong Committee of Management.