RMIT STUDENTS.

RMIT CaLM students have now finished their work at the reserve and their area is most impressive. About 1400 plants were planted by the students, including a couple of species new to the reserve.
---

One of the plots with a sign from 'RMIT students'
---
One of the students found a powerful owl feather, so it must still be visiting the reserve.

COMMUNITY WORK DAYS

In October, our Friday workday weeded the picnic area and 2008 area. Michael brought along 5 Fishweed Goosefoot (Einadia trigonos ssp.)
---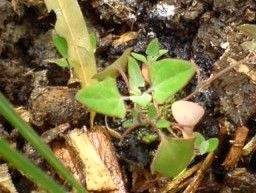 Fishweed Goosefoot Einadia trigonos ssp. trigonos)
---
"Low straggling herbaceous perennial. A rare plant for Melbourne" (Flora of Melbourne p.95) which was planted in the picnic and 2008 areas. Our Sunday workday, despite poor weather had 3 participants. We weeded 2008 area and planted about 60 Kidney weed (Dichondra repens), a Native pepper cress and 1 Pelargonium australe.
BAT PROJECT

The bat tubes were checked last Saturday (5/11) but there were no bats. None of the bats banded in September have appeared in the Wilson Reserve bat boxes, so it seems Burke Rd. may be a different colony.

WILDLIFE

The wildlife continues to amaze. The trailcam has taken numerous photos of the grey kangaroo over a period of at least 12 days.
---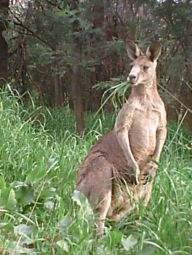 ---
It is now over 12 months since the billabong filled and it still has a good supply of water. The ephemeral wetland is still filled.

THE NEXT COMMUNITY WORKDAYS ARE

FRIDAY 12 NOVEMBER 2011
9 a.m. to 1 p.m.

&

SUNDAY 27 NOVEMBER 2011
10 a.m. to 1 p.m.

Plans for the November workdays are for weeding in the 2008 and picnic areas.

Stanley Barker,
Burke Rd. Billabong Committee of Management.