RMIT STUDENTS

RMIT CaLM (1st year) students visited the Reserve as part of their restoration studies on 2 May. The 20 students were split into 5 groups of 4 and each group took an area of 20 metres by 20 metres along the path starting at the Melbourne Water track west of the Main Yarra trail.


---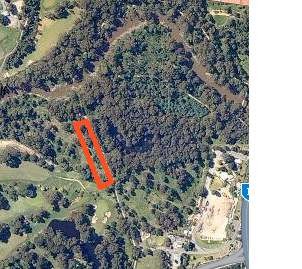 ---

Their first task was to assess the 'Habitat Hectare' value of their plot, which estimates such things as canopy cover and health, ground cover and leaf litter, and weeds. One group has a plot that has 2 wattles (1 dead) and one immature river red gum, with almost 100% kikuyu ground cover. Wish them well, but the only way is up!

COMMUNITY WORK DAYS

In April five people attended the Friday work day and weeded in the 2008 area and planted 30 sprawling bluebell (Wahlenbergia gracilis) and 25 Fishweed goosefoot (Einadia trigonis). On the Sunday work day, we weeded and spread 2 ute loads of mulch (kindly donated by City of Boroondara) on the eastern bank of the 2008 area

---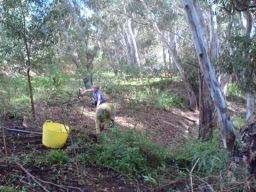 ---

and planted 6 Poa labs, 5 Kangaroo apples and 10 Fishweed goosefoot (Einadia trigonis).


OTHER WORK

The brushcutter was out of action for a couple of weeks waiting for parts, so I hoed the 2008 area and the bank ready for the mulching.

David sprayed the chilean needle grass in the woodland near the MW pumping station fence.

MICROBATS

There were eight Gould's wattled bats in 3 tubes on 21 April. Seven females and 1 male. Six were banded, having been captured previously. The bats are induced to exit at the bottom into a bag tied around the tube's base by blowing through a poly cap with flywire mesh, supplemented by a little paintbrush on an extension for bats unresponsive to the blow-technique.
---
---



THE NEXT COMMUNITY WORK DAYS

FRIDAY 11 MAY 2012
9 a.m. to 1 p.m.

&

SUNDAY 27 MAY 2012
10 a.m. to 1 p.m.



Work planned for the May workdays are weeding in the 2008 and 2012 RMIT areas. We will hire a chipper to get rid of the heaps of boxthorn debris this Friday (weather permitting). The debris is now too damp to burn.

Stanley Barker,
Burke Rd. Billabong Committee of Management.
www.vicnet.net.au/~fobrb