MICROBATS

The microbats were back on 22 September. All were previously banded and allowed us to register that they had been previously recorded at Burke Road. One male and 6 females. The male was alone in tube 2, and one female alone in T10, the rest were in T8.

RMIT STUDENTS

RMIT CaLM (1st year) students visited the Reserve again on 8 October as part of their restoration studies. The area had been prepared by slashing and sprayed twice. Boroondara provided numerous loads of mulch (thank you) which the students put around their plantings - poa labs, goodenias, kangaroo apple, kidney weed and bidgee widgee. The two plots devoid of trees planted a couple of river reds and silver wattles. They will be back next Monday to finish off.

COMMUNITY WORK DAYS

In September ten people attended the Friday work day. We weeded and planted 42 bidgee widgee in 2008 area and weeded in picnic area. We burnt the pile of boxthorn near picnic area and found a very lethargic 1.5m tiger snake under the boxthorn pile - but it blended in well with the boxthorn debris.


---

the tiger snake in foreground and
boxthorn ash pile in top right
---
The Sunday work day was attended by two people, slashing and weeding in the picnic areas.
OTHER WORK

The brushcutter has been working hard and three quarters of the woodland has been slashed - to reduce summer fuel load - as well as the 2011 RMIT area.

PLANT NAME OF THE MONTH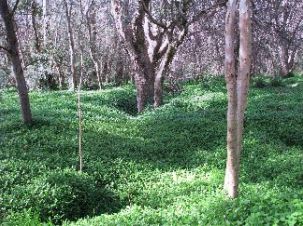 Wandering Trad - Tradescantia fluminensis or
Tradescantia albiflora
is a species of spiderwort native to South America. Known by the common name Wandering Jew. It is also known as River Spiderwort, Small-Leaf Spiderwort, Inch Plant, Wandering Trad, Wandering Willie and Wandering Gypsy.

Tradescant - named after John Tradescant, Elder and Younger, (father and son) botanists for King Charles I.
flumin - stream (Latin)
ensis - origin (Latin)
albiflora - white flowered (Latin)



THE NEXT COMMUNITY WORK DAYS

FRIDAY 12 OCTOBER 2012
9 a.m. to 1 p.m.

&

SUNDAY 28 OCTOBER 2012
10 a.m. to 1 p.m.



Stanley Barker,
Burke Rd. Billabong Committee of Management.
www.vicnet.net.au/~fobrb