WILDLIFE

The male microbat was resident in Tube 5 on 20 October.

The kangaroo and wombat are apparently now resident at Kew Golf Course.

Keep December 8 free for an early morning birdwatch and ramble with the Boroondara Biodiversity group and bird guru Bob Winters - (www.educatingoptions.com.au)

RMIT STUDENTS

RMIT CaLM (1st year) students visited the Reserve again on 15 October and finished the area beside the path near the golf course fence.

---

RMIT students
---

COMMUNITY WORK DAYS

In September four people attended the Friday work day. It started off a bit cool and drizzly but our fire warmed the day up. We burned the boxthorn debris near Burke Rd. bridge and planted 6 snowy daisy bushes where the debris had been.

---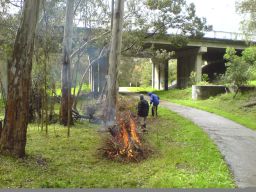 Keeping warm with the boxthorn debris.
---
Fourteen people attended the Sunday work day and weeded in the 2008 and 2011 RMIT areas.
OTHER WORK

Niki has been liberating more Microlaena south of the billabong, David has been slashing and spraying in the woodland and I have slashed Trad in the 2009 & 2010 areas.

PLANT NAME OF THE MONTH

Poa lab. - Poa labillardieri

---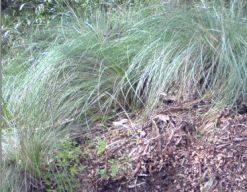 ---
Large Tussock Grass. An attractive large perennial tussock grass with grey-green leaves to 80cm high and wide. Re-introduced to the reserve and now widespread in the 2008 and picnic areas.

Poa - Meadow grass (Greek)
labillardieri - after Jacques-Julien Houtou de La Billardière (1755-1834). French Botanist with the D'Entrecasteaux expedition.




THE NEXT COMMUNITY WORK DAYS

FRIDAY 9 NOVEMBER 2012
9 a.m. to 1 p.m.

&

SUNDAY 24 NOVEMBER 2012
10 a.m. to 1 p.m.



Stanley Barker,
Burke Rd. Billabong Committee of Management.
www.vicnet.net.au/~fobrb