LOW RAINFALL

The billabong is now completely empty. It dried out in the second week of December. In fact the whole reserve is very dry now; soils are cracking and new plantings are considerably stressed. The wheelie bins have been put to good use moving Yarra water to the new plantings


---

Mean and 2012 rainfall graph.
---
Unfortunately the drying out has been parallelled by a healthy seedling growth of spear thistle, ink weed and tiny blackberries. Mechanical slashing is being used to keep down reseeding, but we have to work on full suppression.

The massive growth of weeds in the woodland area following good early spring conditions resulted in a massive production of dry (now very dry) matter. The 'entry level' brush cutter is again being overworked to knock this down to reduce fire risk.

The last few seasons have been very kind to our blackberry patches. They have been spreading fast and furiously. More so than we had realised.
---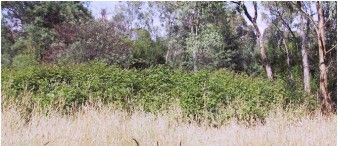 Blackberries.
---
There are a few overworked sprayers trying hard to pull them back into line.


OUR BENEFACTORS

The committee is delighted that the Bendigo Bank, Melbourne Water and the PPWCMA have looked with favour on three projects we have submitted for funding in this new year. We are looking forward to putting these projects into action a.s.a.p.

Boroondara Council have been enormously helpful to us over the past years. We are extremely grateful to them, and wish to acknowledge their great generosity in providing 1700 plants for supply in autumn to help with our revegetation program.

WEED NAME OF THE MONTH

Ink weed.. - Phytolacca octandra
Also known as pokeweed, poke salat, dye berry.
---
---
phyton - plant (Greek)
lacca - lacquer (Latin)
octo - eight (Latin)
andros - anther (Latin)

A fast growing shrubby plant that is mostly less than one metre. It has a strong taproot. Flowers in late spring are in "spikes", usually white, but can be reddish. The red or blackish seeds, with red juice, are spread by birds. The US Declaration of Independence was written in inkweed ink.

Native to central America. All parts of the plant are toxic to mammals and it is used in cancer treatment.



THE NEXT COMMUNITY WORK DAYS

FRIDAY 11 JANUARY 2013
9 a.m. to 1 p.m.

&

SUNDAY 27 JANUARY 2013
10 a.m. to 1 p.m.



Stanley Barker,
Burke Rd. Billabong Committee of Management.
www.vicnet.net.au/~fobrb