TWO BUILDING PROJECTS STARTING SOON

Through the generosity of Bendigo Bank, The Rotary Club of Kew, Melbourne Water, Port Phillip and Westerport Catchment Management Authority, DSE and Chris Cross Landscape and Garden Supplies, we are about to build and install both a shelter (a Gunyah) and a storage container to make our work on rehabilitation a little more convenient and comfortable.


---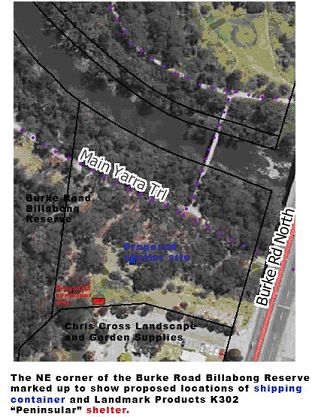 ---
We need a building permit from the Boroondara City Council for the Gunyah (see photo in the February newsletter) and we are working through the requirements for that at the moment. The Gunyah comes as a kit and should arrive about midway through this month.

"OUR" KANGAROO

"Our kangaroo" is back. Niki Smith, while working south of the billabong saw "our kangaroo" on Saturday 23 February about 6:30 pm. "It was directly below the Microlaena/geranium bank, grazing on a mound. Looked to have grazed on Indig Nettle and a persecaria."
TRIAL OF CONTRACTED
REHABILITATION WORK

Melbourne Water have provided us with grant money to trial the use of contractors to help with our rehabilitation work. It is only a relatively small amount at this stage ($2250), but it will give us some idea about what money can achieve, and also about the value of our own volunteer works.

RIVERSIDE PROMENADE

A track has been slashed through the weeds to give river views north of the main Yarra trail. It is very rough at the moment but will hopefully develop into a pleasant 'Riverside walk'. A number of fallen trees make it unsuitable for bikes.
---
---
The track (trek) width is not to scale! .

COMMUNITY WORK DAYS

It has been hot for our past few work days, but we balance the social, work and comfort factors with great aplomb



THE NEXT COMMUNITY WORK DAYS

FRIDAY 8 MARCH 2013
9 a.m. to 1 p.m.

&

SUNDAY 31 MARCH 2013
10 a.m. to 1 p.m.



Stanley Barker,
Burke Rd. Billabong Committee of Management.
www.vicnet.net.au/~fobrb