WATER EVERYWHERE

With the rain last week, the river rose quickly and the billabong filled again. The levee with the pipe and one way valve (see photograph) has raised the 'full' level about 600mm higher than it has been previously.

---
---
The water was just over the path near the culvert and very few cyclists were about. The kangaroo's favourite areas were flooded and so it moved nearer the billabong. It was seen in the north west triangle and then again near the ephemeral wetland.

PLANT NAME OF THE MONTH

Rosemary grevillea - Grevillea rosmarinifolia

Grevillea - After C. F. Greville, (1749 - 1809), one of the founders of the London Horticultural Society, an algae expert, patron and friend of botanists.
rosmarinifolia (Latin) - leaves like rosemary

---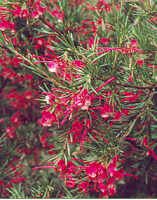 ---
Small shrub, flowering August to November. Prickly foliage provides shelter for small birds, while the flowers provide food for nectar eating birds. Prefers an open dry position.

(Australian Plant names (Don Perrin) & Herring Island website)
RMIT STUDENTS

RMIT students visited the reserve to do 'Habitat Hectares' and quadrat mapping in an area north of the main Yarra trail. David Cummings, our resident soil scientist gave the students 'the good oil' on soil.

---
---

MICROBATS

Only 1 bat was found at the May check, a solitary male in tube 10; it had not been reported since last November.

COMMUNITY WORK DAYS

Volunteers at our work days in May, weeded around the lomandras and in the 2012 RMIT area, and weeded in the picnic and 2008 area.

---

Volunteers at a 'photo opportunity'.
---

After the recent rain, planting is on the agenda for our June days.



THE NEXT COMMUNITY WORK DAYS

FRIDAY 14 JUNE 2013
9 a.m. to 1 p.m.

&

SUNDAY 30 JUNE 2013
10 a.m. to 1 p.m.



Stanley Barker,
Burke Rd. Billabong Committee of Management.
www.vicnet.net.au/~fobrb