MICROBATS

Three bats were found at the June check, one male and two females in tube 9; which is only the second time this tube has been used.

OTHER WORK

The woodland has been slashed and tree guards removed from the larger trees. The trad in this year's RMIT area has been sprayed and is dying back. The grass of the Burke Road entry has been regularly mowed (thanks to Bob Griffiths) as well as the Yarra trail verge.

PLANT NAMES OF THE MONTH

rock correa - Correa glabra
common correa - Correa reflexa

Correa -After José Francisco Correia da Serra, (1750 - 1823), Portugese statesman, scholar, and botanist who spent much of his life in exile.

---
glabra (Latin) - smooth, hairless


Bushy shrub. Flowers from April to August, but also sporadic at other times. Attractive to nectar-feeding birds.

---
reflexa (Latin) - abruptly recurved (bent or curved downwards or backwards).


Variable from open to dense shrub. Flowers from March to September, but also sporadic at other times. Attractive to nectar-feeding birds.

(Australian Plant names (Don Perrin) Wikipedia, & Herring Island website)
WATER

The billabong still has a good level of water, with some pacific black ducks in residence.

COMMUNITY WORK DAYS

Volunteers at our work days in June, weeded, planted and mulched around the picnic area. We planted basalt daisy (Brachyscome multifida - Waverley form), rosemary grevillea (Grevillea rosemarinifolia - Plenty form), tall bluebell (Wahlenbergia stricta), tasman flax-lily (Dianella tasmanica) and rock correa (Correa glabra)

---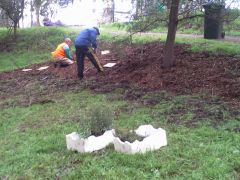 Volunteers planting.
---

The eastern crested shriketit (Falcunculus frontatus) (seen recently at the reserve) is endemic to south-eastern Australia where it inhabits open eucalypt forest and woodland. Tony, a regular birdwatcher at the reserve called by at out Sunday workday and discussed birds he had seen in the reserve. He said that the crested shriketit was indicative of good habitat.
---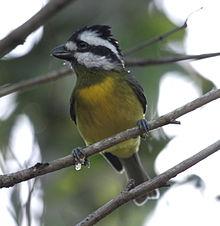 eastern crested shriketit (Falcunculus frontatus)
---



THE NEXT COMMUNITY WORK DAYS

FRIDAY 12 JULY 2013
9 a.m. to 1 p.m.

&

SUNDAY 28 JULY 2013
10 a.m. to 1 p.m.



Stanley Barker,
Burke Rd. Billabong Committee of Management.
www.vicnet.net.au/~fobrb