INFO SESSION WITH DR G. LORIMER

Dr. Graeme Lorimer wrote the site assessments for Boroondara's reserves in 2006 (the Burke Rd. Billabong reserve assessment is on our website) and at the request of the Committee is returning to provide an information session on the 27 October.

The committee was interested in learning more about plant ID as well as how the various indigenous and introduced plant species fit in to different vegetation communities and what that means for management activities.

The Committee is considering its work priorities for the next couple of seasons. Graeme Lorimer will assist in strategy development. Any suggestions on outstanding and important needs are welcome.

If you would like to be involved with an onsite workshop with Graeme Lorimer please also advise. (Places are limited)

WILDLIFE

In September the microbats returned from their winter break (we don't know where they go or why) with nine bats in two tubes.


---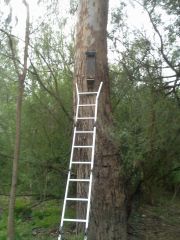 ---
I have built and installed a parrot box near the picnic area and 5 sugar glider boxes which have been installed north of the path. The boxes use poly dampcourse to act as a hings, an anti-mynah flap and to weatherproof the box tops.

OTHER WORK

Other work this month has been poisoning of exotic weed trees within the reserve, with about 100 trees being treated. The majority were Hawthorn which were coming into flower. There were a couple that had been treated previously - apparently unsuccessfully. See the 'Weed of the month'.

Hopefully, this time the treatment will succeed.
COMMUNITY WORK DAYS

Weeding continued in the 2008 area and as well asa planting of 200 plants in the 2008 and 2009 areas. Most were kidney weed (Dichondra repens).

A spotted pardalote was spotted at the last work day with nesting material.

WATERWATCH

THANKS to the Wilson reserve waterwatch team who returned to sample the billabong water again on 19 September; the results are on our website.

WEED OF THE MONTH

Hawthorn - Crataegus monogyna


krataigos = 'a flowering thorn', Greek Monogyna -
mono = 'single or one'
gyna = 'ovary or seed'.
is a species of hawthorn native to Europe, northwest Africa and western Asia. It has been introduced in many other parts of the world where it is an invasive weed.

http://davisla.wordpress.com/ & Wikipedia



THE NEXT COMMUNITY WORK DAYS

FRIDAY 11 OCTOBER 2013
9 a.m. to 1 p.m.

&

SUNDAY 27 OCTOBER
10 a.m. to 1 p.m.
as an INFO session with
Dr. Graeme Lorimer



Stanley Barker,
Burke Rd. Billabong Committee of Management.
www.vicnet.net.au/~fobrb