A 'TRAIL CAMERA' is a motion activated camera with infra-red lights for night time pictures. On 3 June 2011, a camera was set up to capture wildlife movements. The phase of the moon, temperature in degrees Fahrenheit, date and time are on the photo (using MM-DD-YYYY format). In the first week it spied a wallaby a couple of times and a bird. On 9 June, it was reset to try to picture the wallaby side-on.
---

The daytime view
---
Wallaby at night 5 June 2011
---

A bird feeding at night 9 June 2011
---

A fox (or Tassie tiger?) at night 17 June 2011.
---

An eastern grey kangaroo grazing, and a sequence hopping away - one of numerous photos over 12 days to 27/10/11.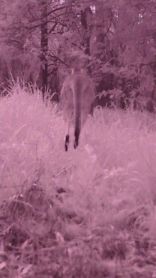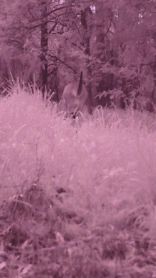 ---
After a sighting of a sambar deer on 27 October 2016, another trailcam was purchased and installed 4 metres up a tree in the golf course triangle on 2 December 2016. It was checked on 14 January 2017, and had many pictures of foxes. A fox family paraded for the camera on 16 December 2016